Corfu - San Stefano - Corfu.

A Tourists Guide.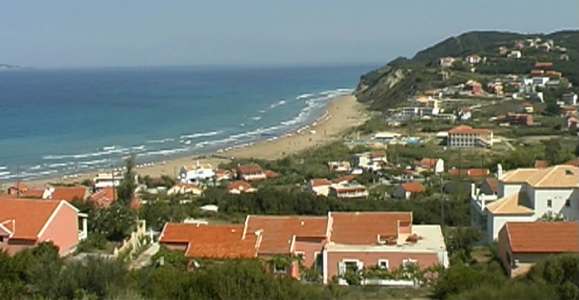 San Stefanos is a quiet fishing village in North West Corfu which has added tourism over the last twenty years without loosing it's identity. Fishing is still a very important part of the local economy. The beach is wide, long and slopes gently into the sea and is considered one of the best on Corfu. The countyside and views around San Stefanos are truly outstanding.

Most tourists enjoy their holidays on Corfu, it is almost impossible not to, and I think we all say 'we will return'. San Stefanos must be almost unique in that 70% of the families and couples do return. The record at the moment is 25 years. That was before tourism, made up roads, apartments and all those trappings we see today.

Many now return not so much as tourists but to meet old Greek friends and pick up as they left the year before. They feel secure and happy to be back in their second home. There is no doubt that San Stefanos offers one of the best holidays in Greece, the friendlyness of the people, the gentle atmosphere and all San Stefano has to offer has made it almost impossible for many to holiday elsewhere.

There are several tavernas and bars which are open till the last custumer has decided enough is enough and requests a guiding hand back to their appartment. There are a variety of supermarkets, gift shops, jewellery shops, laundries and bakeries. At the local harbour about 10 minutes walk from the center you can buy fresh fish directly from the fishing boats as they come in early in the morning.

For those with wander lust there are quite a few coastal and inland villages to explore near San Stefanos. Travelling North there is Peroulades with Logas and Cape Drastis, Sidari and Roda. Travelling East we have Arillas, Afionas, San George and the scenic Paleokastritsa. Inland the most local village is Magoulades, a village totally untouched by tourism.

Index
A Winter Visit.
Links to :-

Home website - www.san-stefano.gr.

Corfu For All...... Panorama Restarant..... The Dream Island

View my guestbook |
Sign my guestbook
Get your free guestbook