Noula's Greek Recipes
Noula at one time managed a taverna.
These are the real thing.
Sofrito -- Stifado -- Mousaka -- Pastitsio -- Tzatziki -- Onassis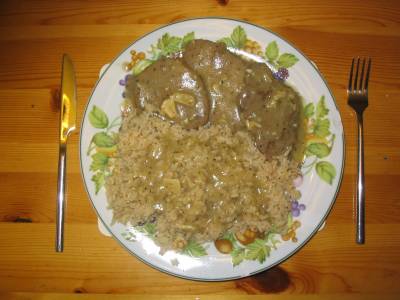 Sofrito
Serves 4
1 Kilo of tender beef steak
1 garlic (whole)
1 glass of dry white wine
parsely
salt and pepper
2 spoons of plain flour.
a little light oil
rice for 4

Lightly cook the steaks until no blood.
Place in a casserols dish with a little light oil and the crushed garlick.
Simmer for a few minutes and add enough water to cover the meat.
Season and add sprinkle of parsley.
Simmer until meat is cooked leaving enough liquid for the sauce.

Sauce
In a cup of hot water add the flour and stir until smooth.
Add to the casserol and stir until well mixed.
Traditionally served with rice but potatoes and/or other veg may be used.
Back to Top
Stifado
Serves 4
I Kilo of diced beef
I can chopped tomatoes
500g of baby onions
1 large onion
1 soup spoon of tomato paste
1 small glass of red wine
a little light oil
a few bay leaves
salt pepper

Chop up the large onion and stir fry with the meat in a little oil.
When the meat starts to fry add the wine, bayleaves, salt and pepper.
Add tomatos and tomato paste and water to well cover the meat.
When meat is nearly cooked and the baby onions.
Leave to simmer until sauce reduces to a light cream.
Serve with rice or potatoes

Back to Top
Mousaka
Serves 8
1 Kilo minced beef.
5 large potatoes
4 large obergines
1 can chopped tomatoes
1 large onion
227g (8oz) butter or margerine
1 litre milk
8 soup spoons of plain flour
2 eggs
250g yellow cheese
salt and pepper

Stir fry the mince and onion in a little light oil until brown.
Add tomatoes and water until meat is well covered then salt and pepper.
Leave to simmer until cooked.

Slice the aubergines and soak in water.
Slice the potatoes and fry until golden. Place on kitchen towel to drain.
Fry the aubergines until golden. Place on kitchen towel to drain.

For the besamel cream firstly whip the two eggs.
Melt the butter stiring acontinually and then add 8 spoons of flour.
Add the milk salt and pepper. Keep stiring until the mixture thickens.
Add the whipped eggs and stir until mixture sets.

Using a large greased ovenproof dish place the cooked sliced potatoes
then aubergines making sure there are no gaps and add the mince evenly.
Cover with the besamel cream and add grated cheese over the top.

Cook in a pre-heated medium oven for 30 to 40 minutes until the top is brown.
To check. Push a knife in the center and withdraw quickly.
If it has cream on it continue cooking for a short while.
Back to Top
Pastitsio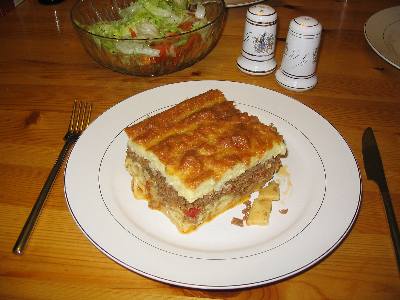 Pastitsio is very similar to Mousaka except the potatoes and aubergines
are replaced by pasta. Just line the bottom of your oven proof dish with
about 1.5cm (3/4") of cooked pasta. This is a much easier and quicker meal
to prepare than Mousaka.

Back to Top
Tzatziki (starter)
500g of Greek strained yogurt.
1 garlic (whole)
1 cucumber
3 tablespoons olive oil
2 tablespoons of vinigar
salt and pepper.

Grate the cucumber and squeeze as much water out as possible.
Place in a bowl and add yogurt,crushed garlic and stir very well.
Add oil, vinigar, salt and pepper and stir very well again.
Place in refridgerator for about 2 hours and serve with bread.

Back to Top
Onassis (starter)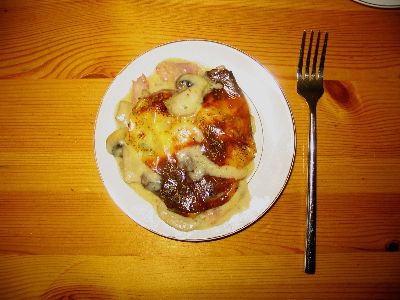 350g mushrooms.
200g bacon (not too salty).
250g Cheddar type cheese or sandwich slices.
Chille powder
Oregano

Slice mushrooms and fry in a little oil with a pinch of salt until golden.
Place mushrooms in an 25cm (10") oven proof dish (or individual pots)
Cut bacon into 3 pieces and place over mushrooms. Cover with slices
of cheese. Lightly sprinkle with chiili powder and oregano.
Cook in a medium over for about 15 - 20 mins or until golden brown.
Back to Top
Retutn to Index